Things You Didn't Know About Guardians of the Galaxy
When it came to Hollywood movies, the Guardians of the Galaxy film was the biggest surprise of 2014. No one quite knew what this film might be. Was it some deep-geek Star Wars comic book rip off? Nope. The Guardians comic book actually came first. Was it an attempt by Disney to sell Rocket Raccoon and talking tree toys? Maybe… but the characters were amazing and it worked. Had Marvel finally lost it? Certainly not. But what really went on behind the scenes on this awesome comic book movie? And what fun Guardians of the Galaxy facts will you be surprised to learn?

The Guardians first premiered in the Marvel comic books way back in 1969, but you wouldn't recognize them now, as the team has changed drastically over the decades. For instance, characters like Groot and Rocket Raccoon didn't join the Guardians until much later. Since then, the Guardians have popped up in comics across Marvel's numerous comic book series fighting alongside the Avengers, the X-Men, and even the Fantastic Four. And with the surprisingly popularity coming from the blockbuster film, the Guardians even have their own animated series in the works.
We've decided to take a look through the layers of this crazy masterpiece and share with you things you may not have known about the Guardians. Did you know Chris Pratt almost wasn't even considered for Star-Lord? Do you know which It's Always Sunny in Philadelphia star almost got the role instead? Did you know the original actors for Gamora and Drax both turned down the project?
All of these GotG facts and Guardians of the Galaxy trivia tidbits are below! Vote up the most shocking and interesting Guardians of the Galaxy trivia and learn something new about this popular comics, and now film, franchise!
Chrome Dome
Karen Gillan actually shaved her head in preparation for her role of Nebula. They then made a wig made out of her own hair!
Dave Bautista's Makeup Took Five Hours a Day and He Never Sat Down
It took makeup artists five hours a day to apply the 18 prosthetic tattoo pieces and full body makeup onto Dave Bautista. Chris Pratt said Bautista stood the entire time, holding onto rails with tennis balls in his hands, silent and never complaining.
Chris Pratt Got the Role in Just 30 Seconds
Director James Gunn said that Chris Pratt's audition was so good he didn't even have to lose weight if he couldn't and they'd just CGI him a six pack if they had to. Ironic, considering Gunn originally didn't even want to see Pratt for the role. Pratt got the audition because Gunn's assistant insisted. Gunn later said that within 30 seconds he knew the role was Pratt's.
Vin Diesel Recorded His One Line Over 1,000 Times
Vin Diesel recorded all of his "I am Groot" lines in several languages including Russian, Mandarin, Spanish, Portuguese, German, and French so they could use his real voice in every rendition of the film. In all, he ended up recording the line over 1,000 times.
Getting the Part Made Dave Bautista Cry
When Dave Bautista found out he got the part he immediately broke down crying, then called to sign up for extra acting classes to prepare for the Marvel franchise.
The Soundtrack Made History
The film's soundtrack, Awesome Mix Vol. 1, reached number one on the Billboard charts, making it the first film soundtrack to ever do that without a single original song. The soundtrack was also nominated for a Grammy in the Best Compilation Soundtrack Album for Visual Media category.
Director James Gunn Did the Groot Dance
During the mid-credits scene when baby Groot is dancing to "I Want You Back," it was actually director James Gunn whose performance was used for the motion capture.
Chris Pratt Lost 60 Pounds for the Role
Chris Pratt told director James Gunn he'd need six months to lose the 50 pounds for the part. In the end, he actually lost 60 pounds, thanks to a strict diet and a torturous workout regimen. He said it was worth it to see the best possible physical version of himself.
Playing Groot Helped Vin Diesel Deal with Paul Walker's Death
Vin Diesel said that his performance as Groot helped him through the difficulty of losing his friend, Paul Walker. Citing Groot's perspective on the world, Diesel said, "It was the first time I came back to dealing with human beings after dealing with death, so playing a character who celebrates life in the way Groot does was very nice."
Chris Pratt Improvised Star-Lord Flipping the Bird
Apparently Star-Lord's iconic gesture from the trailer was improvised by Chris Pratt on set.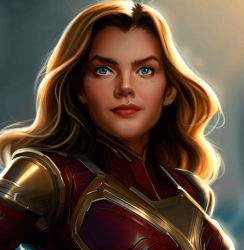 Latest posts by Buffy Mote
(see all)