Top 35+ Best Black Superheroes in Comics, Ranked by Fans
In general, comic books have not paid nearly enough attention to people of color. Even when a Black super hero did exist, they didn't get the exposure they deserved. The best Black superheroes are every bit as iconic, interesting, and emotionally compelling as their peers. In fact, Black Panther in particular has been a consistently strong book over the years that will no doubt provide a lot of great material for a ton of films down the line. Static has not only gotten his own cartoon, but an incredibly loyal cult following. When Superman died, Steel was one of the only people who stepped up to take his place that didn't have some horrific ulterior motive waiting in the wings that could spell doom for the planet Earth. When the mantle of Ultimate Spider-Man was passed from Peter Parker to Miles Morales, the character blossomed and became arguably more beloved than his predecessor.

Even despite these triumphs, Black characters still haven't gotten the time of day they deserve. Ask most people to name a few Black super heroes and you probably will get a list with maybe three names. The good news is recent films, comics, and TV shows are really pushing their Black characters the way they always deserved. We're seeing new exposure for characters like Black Panther getting his own film in the Marvel cinematic universe, Luke Cage on Netflix, and Cyborg in the Justice League movie. While it was great to have Wesley Snipes as Blade have his own film series, we're glad to see new Black superhero movies filling the ranks.
But let's not forget how much farther we have to go. The length of this list proves there are a ton of Black superheroes that could make their debuts in television and movies. The Spectre could make a great on screen presence. Spawn deserves a better film than his 90s misfire, and with the advances in special effects and storytelling available today we could get something very special for fans of his book in addition to new audiences. If you're curious to see just how many characters are out there, check out the list of the best Black superheroes below and be sure to vote up your favorites.
Black Panther
Storm
Miles Morales
Blade
Luke Cage
Sam Wilson (Falcon)
Ultimate Nick Fury
War Machine
Shuri
Bishop
John Stewart
Cyborg
Cloak
Spawn
Blue Marvel
Black Lightning
Static
Monica Rambeau
Misty Knight
Synch
Vixen
Night Thrasher
Brother Voodoo
The Prowler
Moon Girl
Aqualad
Goliath
Power Man
Cecilia Reyes
Monet
Patriot
Bling!
Maxam
Firestorm
Deathlok
Spyke
Calypso
Man-Ape
#12 added
Bumblebee
3D Man
Riri Williams
Captain Universe
Rage
Malice
Alex Wilder
Steel (John Henry Irons)
Rocket Racer
Battlestar
Mister Terrific
Batwing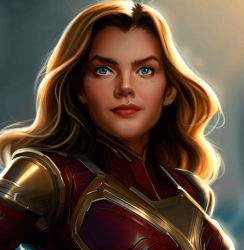 Latest posts by Buffy Mote
(see all)